So.. I never want to spend more than $50 on a piece of furniture again!! Steve is probably grinning from ear to ear reading that because about a month ago, you would have never heard those words come from my mouth. But seriously, if you find the right piece, take the time to bring it back to life, it'll look like a brand new piece that you spent
top
dollar for. I found this nightstand at goodwill for $15! I really wish they had the matching one because they would be perfect in our bedroom but they just had the one. It's final destination will be in the guest room, which has yet to be revealed (it needs some major work).
For now its my temporary nightstand, which definitely
does not
match Steve's :) as seen in our
previous post.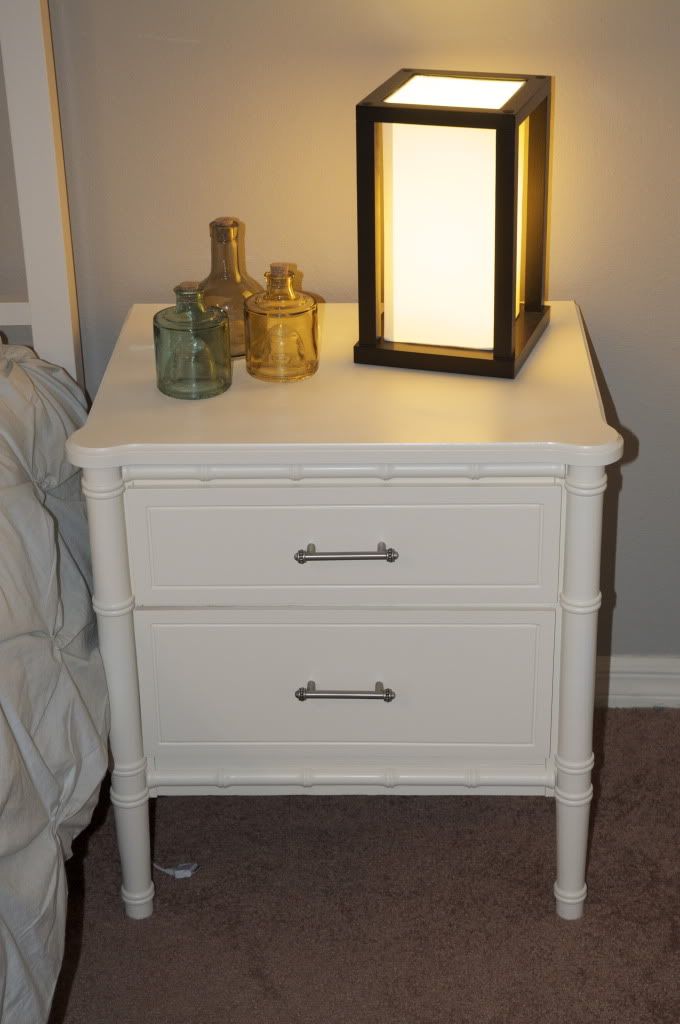 It might not look much different, but the piece was in pretty good condition from the start. I gave it a good sanding. primed and spray painted it
Rust-oleum's Heirloom White
, and I replaced the hardware with more modern handles from Lowes.
When I took the old hardware off, I noticed that the new hardware required a new set of holes to be able to fit. We filled the old holes with wood filler, sanded it level, and measured for our new holes.
So what do you think of our new $30 nightstand? Has anyone else refinished an old piece of furniture?? I'd love to see your pictures or hear tips and advice that you've learned along the way!